Here is a brass-coloured pocket watch with a half hunter cover. The intricate design features a large 'DAD' in brass colouring. Several viewing windows show a see-through watch design with gold-coloured inner workings.
Don't Settle For Less Than a Fob & Co.
Buying a pocket watch isn't just about keeping track of time, it's also about keeping track of history. Pocket watches gained their place and significance long before quartz movement, and at Fob & Co., we believe that all pocket watches should be mechanical.
That's why you can be assured that when you buy this pocket watch, it has been crafted with care to keep time without needing a battery. We love cogs and gears and aren't afraid to say so!
We offer a 12 month Australian warranty on all of our watches, which means that if you have a problem, you can contact us and we are here to help.
Need it fast? We include free express shipping on all orders above $60, and we ship every day. So your new watch will see you soon!
Worried about customer support? Don't be! Our team is here for you both before and after the sale to ensure you get the watch you really want.
Don't like it after it arrives? No problem! Simply contact our customer support team and they will guide you through our easy exchange process.
Customer Reviews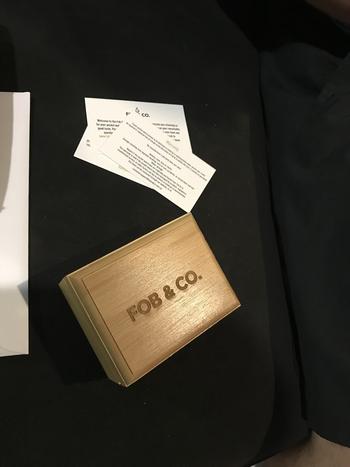 02/05/2019
Fast shipping
Arrived very quickly and in time for the birthday. Would have been nice to have an engraving option. Glad I purchased the upgrade.
06/03/2020
A great time piece
I like this – keeps time well, easy to use. the perfect gift.
Robert H.

AU
12/07/2018
Gorgeous Pocket Watch
Bought as a Christmas present, looks absolutely gorgeous. Great price for the quality and the extras you get with it (chains and clips to attach to clothing, leather pocket to keep it in).
Thanks Laura for sharing your comments. You really have an elegant and gorgeous pocket watch design right there. We are pretty sure that your Christmas gift will be greatly appreciated.Thanks again for purchasing from us!
10/12/2018
Dad Fob Watch
Was a lovely fob watch, hubby loved it specially from the kids for his birthday. It had dad on the front and a leather case, i was dissappointed that the insert at the front that you view through was like a plastic i really thought it would have been glass. The box i purchased extra was a nice touch too.
09/02/2018
Quick delivery
The pocket watch I ordered for my Dad's 70th birthday came so quickly. It looks great, I'm sure he'll love it!
Thanks Donna-lea for sharing your customer experience. We appreciate it. We really have an extremely quick shipping process. We are glad that you are satisfied with your purchase. Thanks for choosing us!